7 Great Lightning Talks Related to Data Science Ethics
Written: 14 Mar 2022 by Rachel Thomas
I have been organizing and facilitating a series of Ethics Workshops for the Australian Data Science Network, featuring lightning talks by Australian experts on a range of topics related to data science ethics, including machine learning in medicine, explainability, Indigenous-led AI, and the role of policy. Check out the videos from these thought-provoking lightning talks (with longer discussions at the end):
The False Hope of Explainability in Medicine

Lauren Oakden-Rayner, the Director of Research for Medical Imaging at Royal Adelaide Hospital, is both a radiologist and a machine learning expert. She spoke about mismatched expectations between technical and non-technical communities on what questions explainability answers, based on her paper "The false hope of current approaches to explainable artificial intelligence in health care". Lauren's talk is at the start of Video #1.
Critical Gaps in ML Evaluation Practice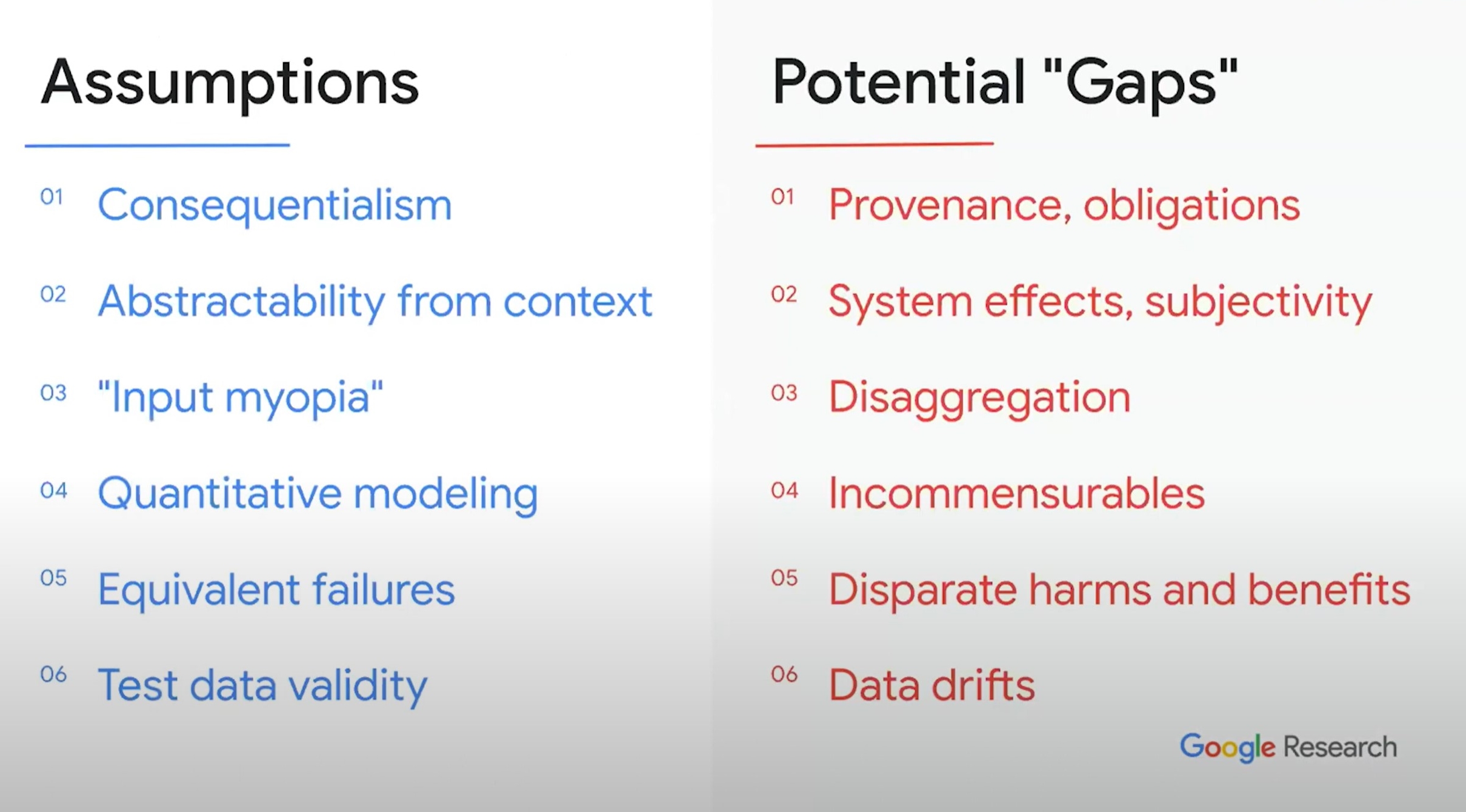 Ben Hutchinson is a senior engineer in Google Research based in Sydney. Practices for evaluating machine learning models are largely developed within academic research and rest on a number of assumptions that lead to concerning gaps when applied to real-world applications. Ben's talk starts at 12 min mark of Video #1.
Indigenous-Led AI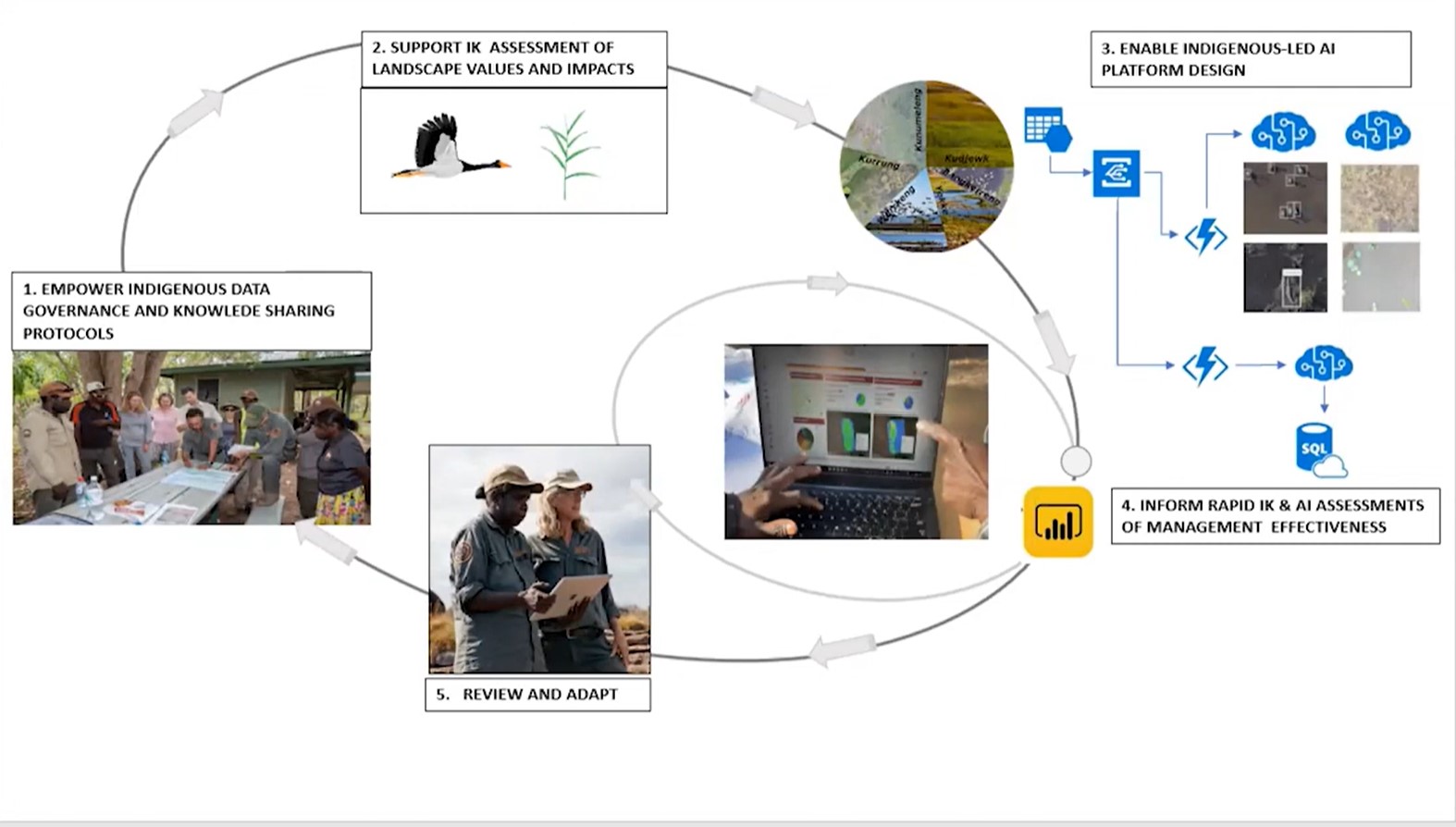 Cathy Robinson is a principal research scientist at CSIRO, working on a project to center Indigenous data soveriegnty and Indigenous co-design in addressing complex ecological and conservation issues. Read more about CSIRO's Healthy Country AI project or about CARE Indigenous Data Principles. Watch Cathy's talk starting at 23 min mark of Video #1.
Near-Termism and AI Value Alignment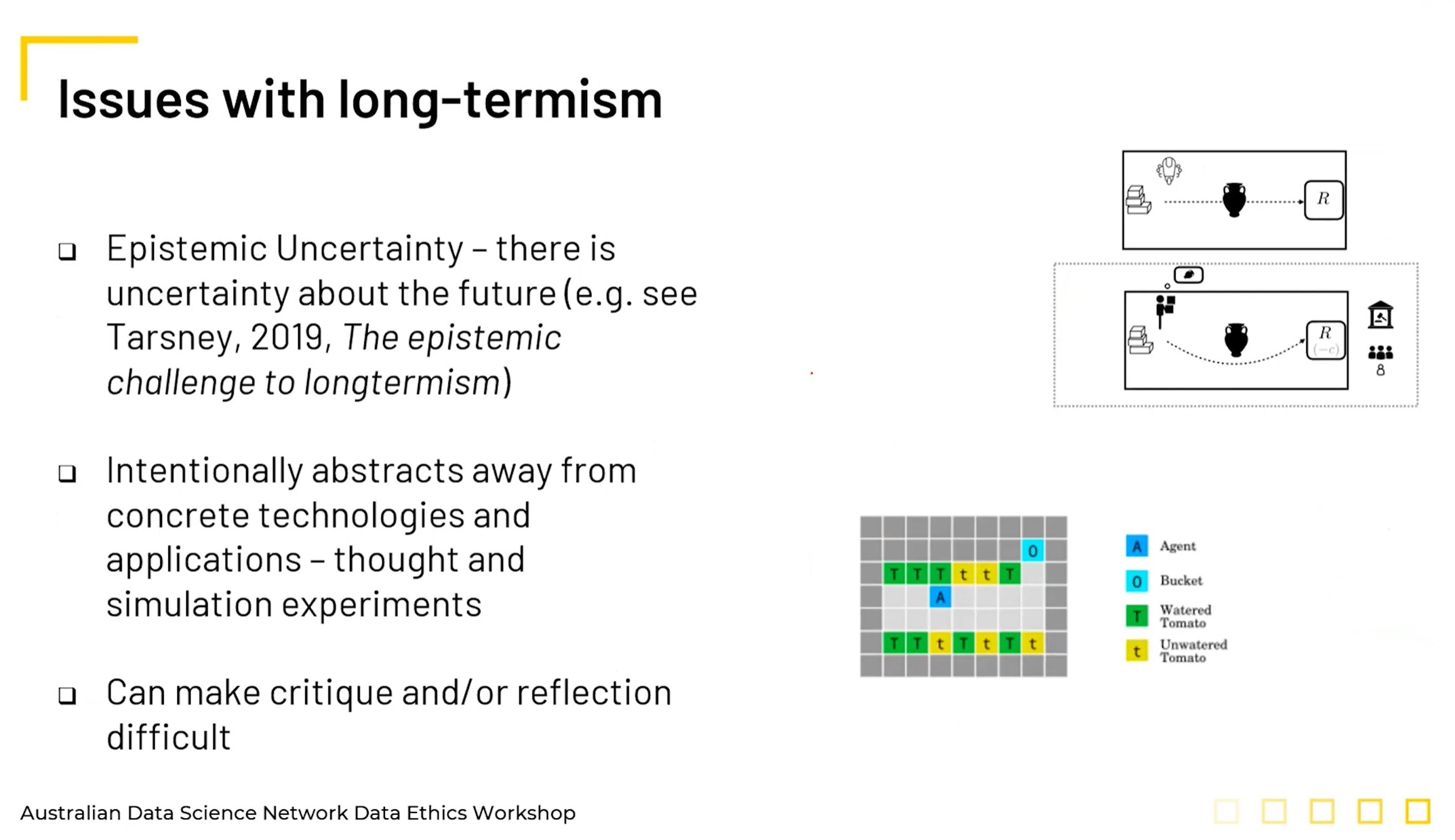 Aaron Snoswell is a postdoctoral research fellow at QUT, with over a decade's experience in software development, industry research, and robotics. He spoke about the issues with focusing primarily on long-termism in AI value alignment and the need to consider short-term issues. Starts at 36 min mark Video #1.
Narrow vs Broad Understandings of Algorithmic Bias among Stakeholders in Healthcare AI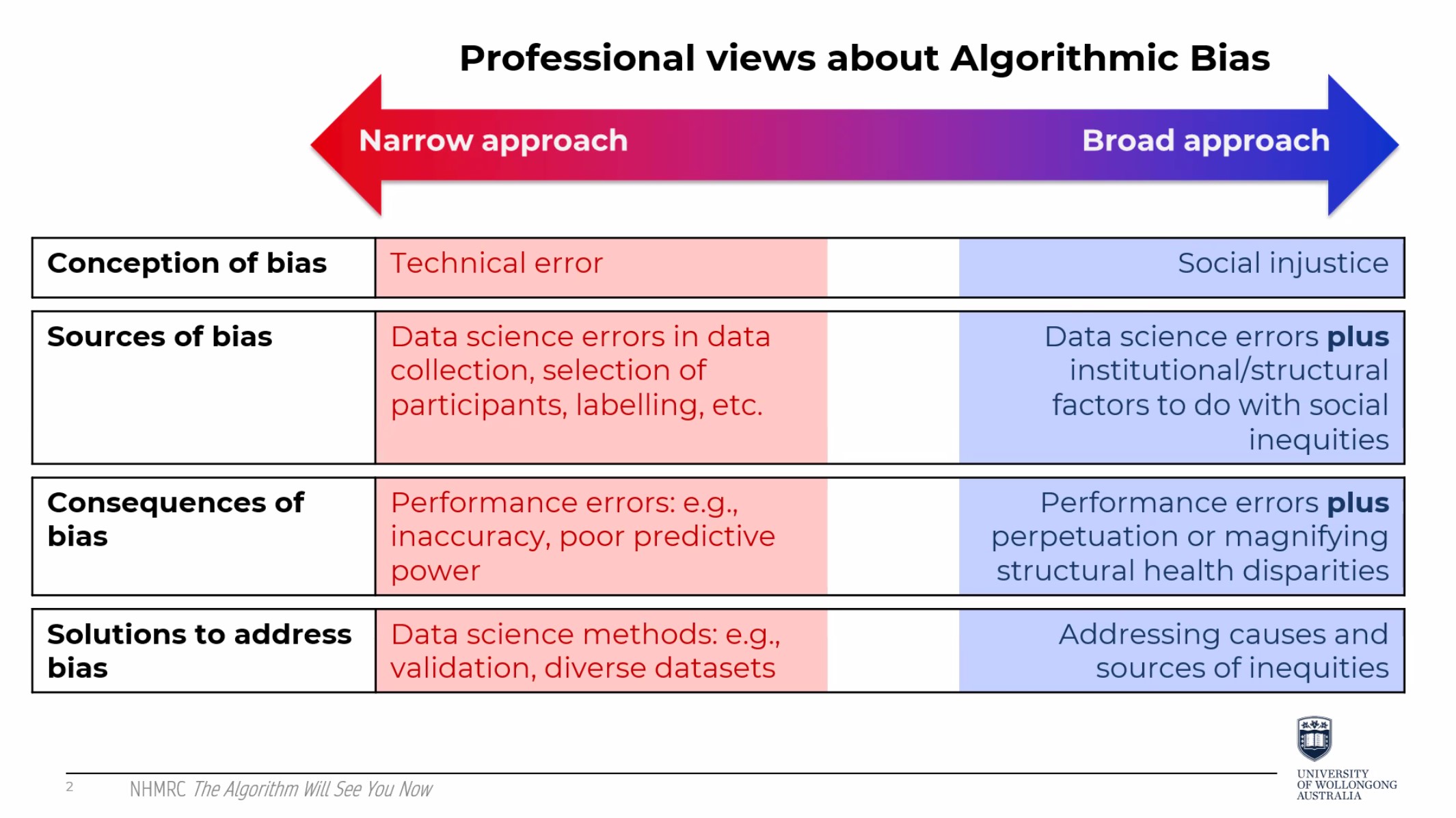 Yves Saint James Aquino is a philosopher and physician, currently working on the project "The algorithm will see you now: ethical, legal and social implications of adopting machine learning systems for diagnosis and screening" as a postdoctoral research fellow at the University in Wollongong. For his talk, he drew on interviews with 70 different stakeholders in healthcare AI, including software developers, medical doctors, and startup founders, to explore different conceptions of how algorithmic bias is understood. Watch the first talk in Video #2.
Towards Human-Centric XAI using Eye Tracking in Chest Xrays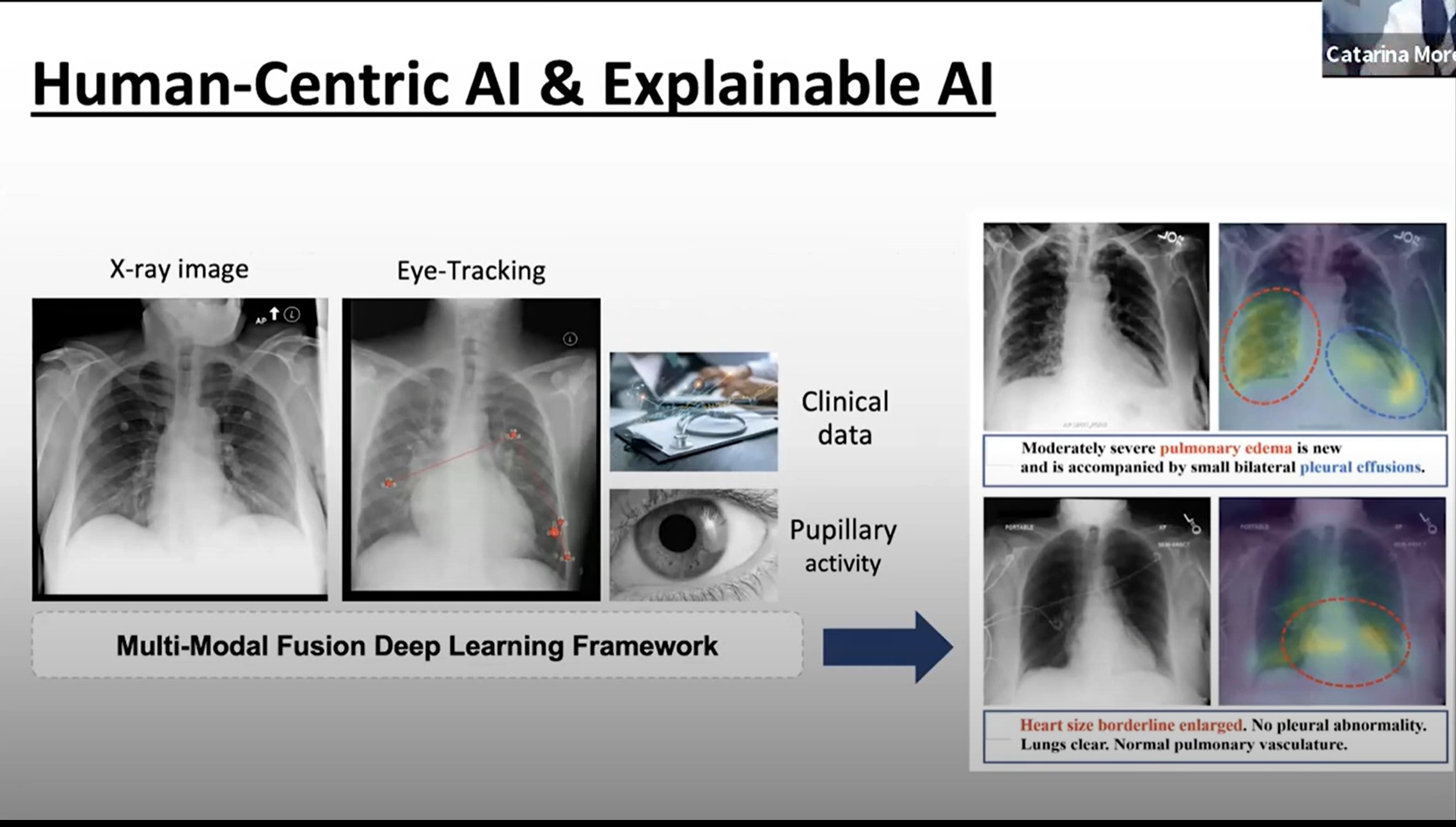 Catarina Pinto Moreira is a Lecturer in Information Systems at Queensland University of Technology and a pioneer in non-classical probabilistic graphical models for decision making to empower human decision-making. Interviews with radiologists are crucial to her work; for example, interviews revealed that clinical notes are important for radiologists to use in diagnosis, even though this is not often mentioned in the literature. Her talk begins at 10 min mark of Video #2.
The Role of Policy in Data Ethics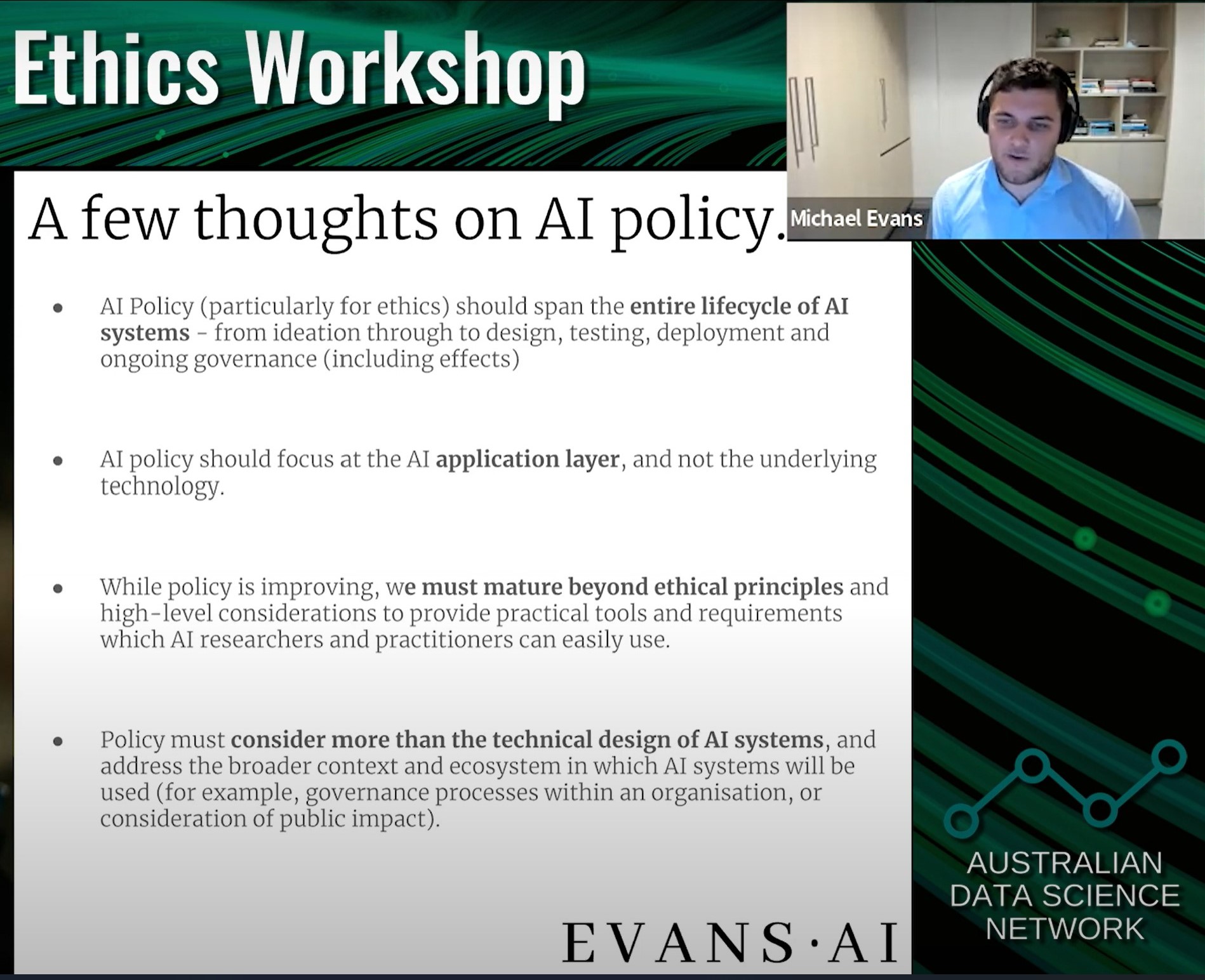 Michael Evans crafted Australia's National Artificial Intelligence Roadmap, contributed to the development of Australia's national approach to governing autonomous vehicles, and represented Australia at the World Bank/IMF Annual Meetings. He gave an overview of the AI policy landscape, including policy tools, the disconnect between principles and application, and recommended ways forward. Watch Michael's talk beginning at 20 min mark of Video #2.
Each talk is around 5 minutes long. Feel free to fast forward to those of particular interest, or watch them all!
The End
The False Hope of Explainability in Medicine (Lauren Oakden-Rayner, Australian Institute for Machine Learning)
Critical Gaps in ML Evaluation Practice (Ben Hutchinson, Google Sydney)
Indigenous-Led AI (Cathy Robinson, CSIRO)
Near-Termism and AI Value Alignment (Aaron Snoswell, Queensland Univ of Technology)
Narrow vs Broad Understandings of Algorithmic Bias among Stakeholders in Healthcare AI (Yves Saint James Aquino, Univ of Wollongong)
Towards Human-Centric XAI using Eye Tracking in Chest Xrays (Catarina Pinto Moreira, Queensland Univ of Technology)
The Role of Policy in Data Ethics (Michael Evans, Evans AI)