YouTube has played a significant role in radicalizing people into conspiracy theories that promote white supremacy, anti-vaxxing, denial of mass shootings, climate change denial, and distrust of mainstream media, by aggressively recommending (and autoplaying) videos on these topics to people who weren't even looking for them. YouTube recommendations account for 70% of time spent on the platform, and these recommendations disproportionately include harmful conspiracy theories. YouTube's recommendation algorithm is trying to maximize watch time, and content that convinces you the rest of the media is lying will result in more time spent watching YouTube.
Given all this, you might expect that Google/YouTube takes these issues seriously and is working to address them. However, when the New York Times interviewed YouTube's most senior product executive, Neal Mohan, he made a series of statements that, in my opinion, were highly misleading, perpetuated misconceptions, denied responsibility, and minimized an issue that has destroyed lives. Mohan has been a senior executive at Google for over 10 years and has 20 years of experience in the internet ad industry (which is Google/YouTube's core business model). Google is well-known for carefully controlling its public image, yet Google has not issued any sort of retraction or correction of Mohan's statements. Between Mohan's expertise and Google's control over its image, we can't just dismiss this interview.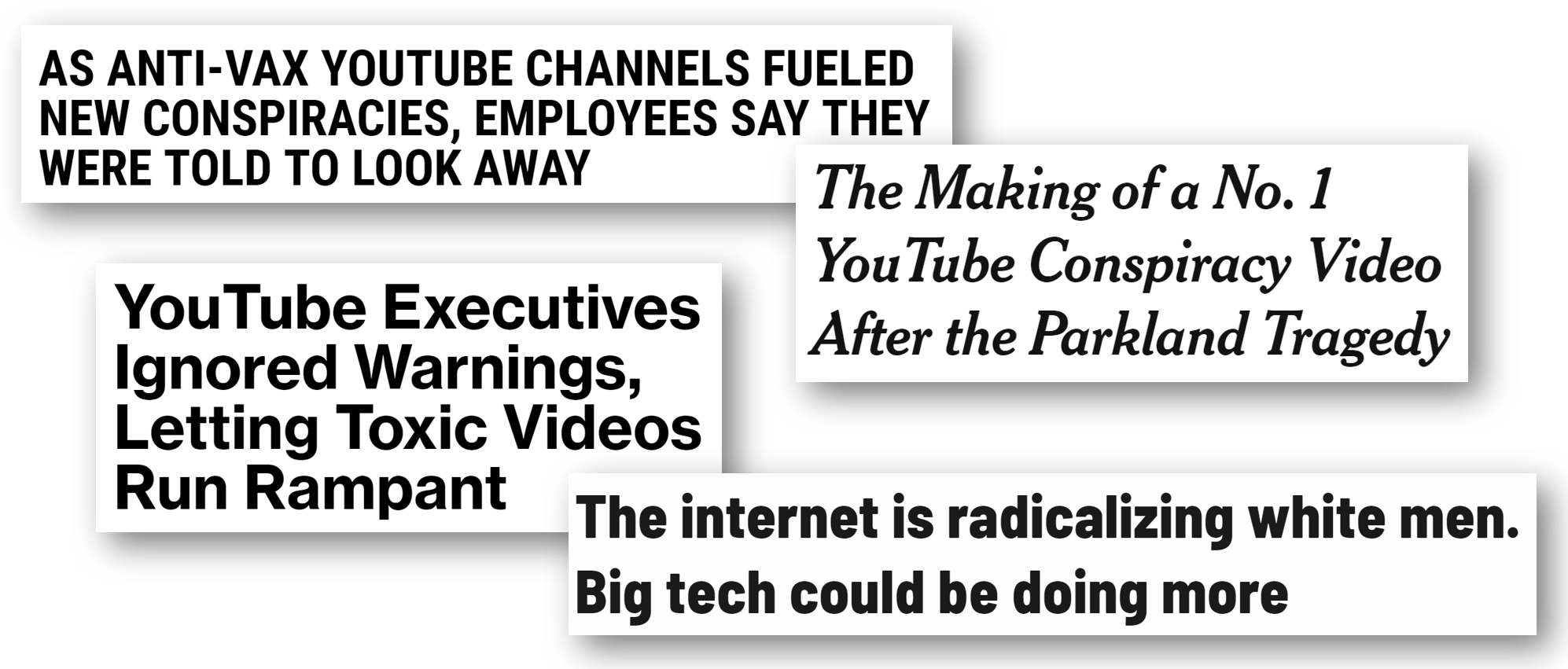 Radicalization via YouTube
Worldwide, people watch 1 billion hours of YouTube per day (yes, that says PER DAY). A large part of YouTube's successs has been due to its recommendation system, in which a panel of recommended videos are shown to the user and the top video automatically begin playing once the previous video is over. This drives 70% of time spent on YouTube. Unfortunately, these recommendations are disproportionately for conspiracy theories promoting white supremacy, anti-vaxxing, denial of mass shootings, climate change denial, and denying the accuracy of mainstream media sources. "YouTube may be one of the most powerful radicalizing instruments of the 21st century," Professor Zeynep Tufekci wrote in the New York Times. YouTube is owned by Google, which is earning billions of dollars by aggressively introducing vulnerable people to conspiracy theories, while the rest of society bears the externalized costs.
The number of people telling me that YouTube autoplay ends up with white supremacists videos from all sorts of starting points is pretty staggering. This needs large-scale and systematic research. https://t.co/NnTdQA9itK

— zeynep tufekci (

@zeynep

) March 12, 2018
What is going on? YouTube's algorithm was built to maximize how much time people spend watching YouTube, and conspiracy theorists watch significantly more YouTube than people who trust a variety of media sources. Unfortunately, a recommendation system trying only to maximize time spent on its own platform will incentivize content that tells you the rest of the media is lying, as explained by YouTube whistleblower Guillaume Chaslot.
What research has been done on this?
Guillaume Chaslot, who has a PhD in artificial intelligence and previously worked at Google on YouTube's recommendation system, wrote software which does a YouTube search with a "seed" phrase (such as "Donald Trump", "Michelle Obama", or "is the earth round or flat?"), and records what video is "Up Next" as the top recommendation, and then follows what video is "Up Next" next after that, and so on. The software does this with no viewing history (so that the recommendations are not influenced by user preferences), and repeats this thousands of times.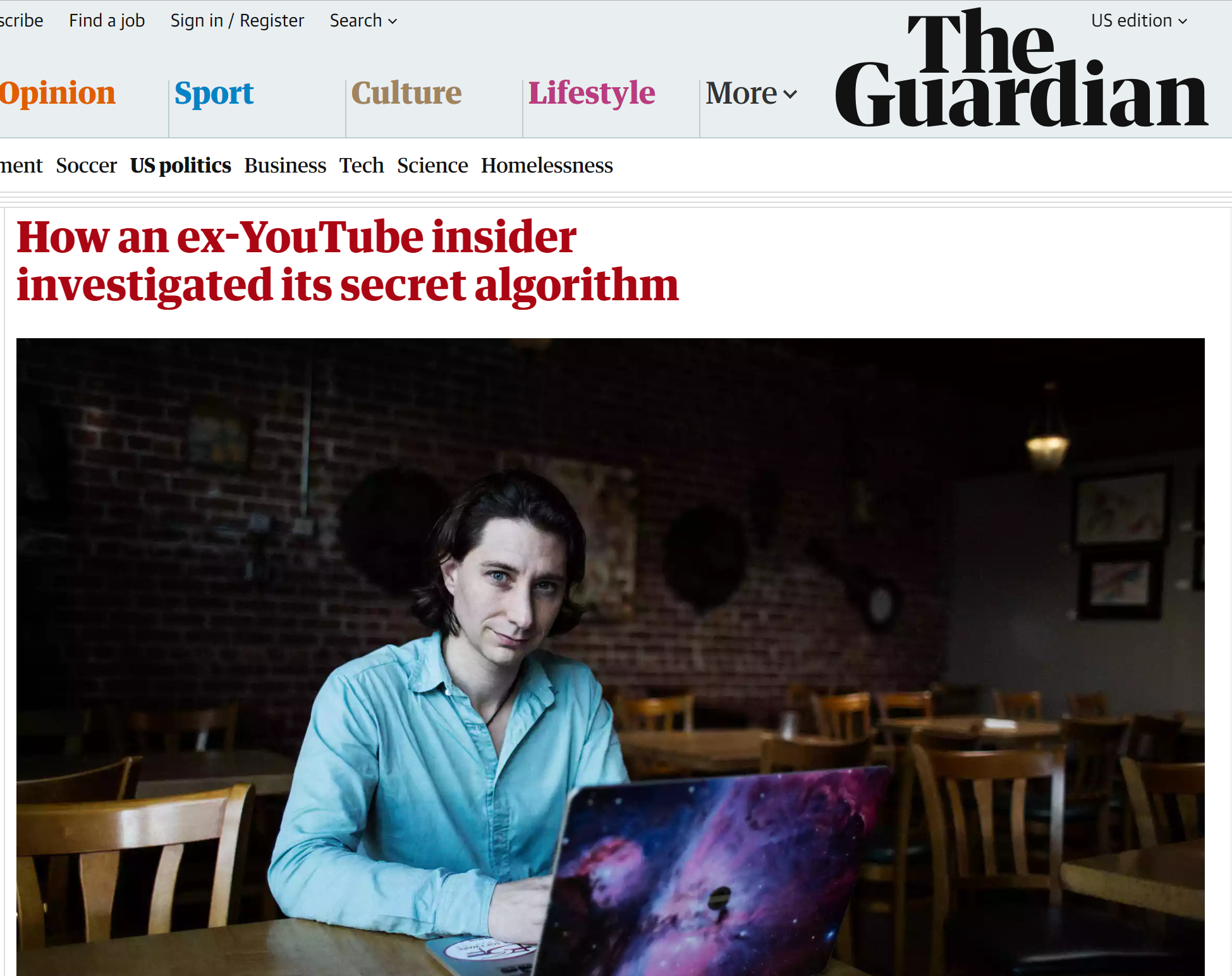 Chaslot collected 8,000 videos from "Up Next" recommendations between August-November 2016: half came as part of the chain of recommendations after searching for "Clinton" and half after searching for "Trump". When Guardian reporters analyzed the videos, they found that they were 6 times as likely to be anti-Hillary Clinton (regardless of whether the user had searched for "Trump" or "Clinton"), and that many contained wild conspiracy theories:
"There were dozens of clips stating Clinton had had a mental breakdown, reporting she had syphilis or Parkinson's disease, accusing her of having secret sexual relationships, including with Yoko Ono. Many were even darker, fabricating the contents of WikiLeaks disclosures to make unfounded claims, accusing Clinton of involvement in murders or connecting her to satanic and paedophilic cults."
This is just one of many themes that Chaslot has researched. Chaslot's quantitative research on YouTube's recommendations has been covered by The Wall Street Journal, NBC, MIT Tech Review, The Washington Post, Wired, and elsewhere.
In Feb 2018, Google Promised to Publish a Blog Post Refuting Chaslot (but still hasn't)
According to the Columbia Journalism Review, "When The Guardian wrote about Chaslot's research, he says representatives from Google and YouTube criticized his methodology and tried to convince the news outlet not to do the story, and promising to publish a blog post refuting his claims. No such post was ever published. Google said it 'strongly disagreed' with the research—but after Senator Mark Warner raised concerns about YouTube promoting what he called 'outrageous, salacious, and often fraudulent content,' Google thanked The Guardian for doing the story." (emphasis mine)
Why would Google claim that they had evidence refuting Chaslot's research, and then never publish it? The Guardian story ran over a year ago, yet Google has still not produced their promised blog post. This suggests to me that Google was lying. It is important to keep this in mind when weighing the truthfulness of more recent claims by Google leaders regarding YouTube.
What did Neal Mohan get wrong?
YouTube's Chief Product Officer, Neal Mohan, was interviewed in the New York Times, where he seemed to deny a well-documented phenomenon, ignored that 70% of time spent on the site comes from autoplaying recommendations (instead blaming users for what videos they choose to click on), made a nonsensical "both sides" argument (even though YouTube has extremist videos, they also have non-extremist videos…?), and perpetuated misconceptions (suggesting that since extremism isn't an explicit input to the algorithm, that the results can't be biased towards extremism). In general, his answers often seemed evasive, failing to answer the question that had been asked, and at no point did he seem to take responsibility for any mistakes or harms caused by YouTube.
Even the reporter interviewing Mohan seemed surprised, at one point interrrupting him to clarify, "Sorry, can I just interrupt you there for a second? Just let me be clear: You're saying that there is no rabbit hole effect on YouTube?" (The "rabbit hole effect" is when the recommendation system gradually recommends videos that are more and more extreme). In response, Mohan blamed users and still failed to give a straightforward answer.
As background, Mohan first began working in the internet ad industry in 1997 at DoubleClick, which was aquired by Google for $3.1 billion in 2008. Mohan then served as SVP of display and video ads for Google for 7 years, before switching into the role of Chief Product Officer for Google's YouTube. YouTube's primary source of revenue is ads, and in 2018, YouTube was estimated to be doing $15 billion in annual sales and to be worth as much as $100 billion. Mohan is so beloved by Google that they offered him an additional $100 million in stock in 2013 to turn down a job offer from Twitter. All in all, this means that Mohan has 11 years of experience as a Google senior executive, and over 20 years of experience in the internet ad industry.